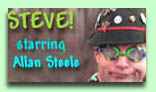 Welcome to the on-line Freakybuttrue. Animations, films, comics, books, art and so much more.

Breakfast Served All Day Yes, the follow up to Night of the Yardsale Monkey is here! 70 minutes of strange animations, short comedy and so much more. It's so jam packed I can't even really talk about it right now. Click for a preview!

Serious Wackos


Finally, thank you baby Jebus, the first collection of Freakybuttrue cartoons and stories are now in book form! 96 pages of cartoon and story fun.

Short films, books, DVDs and even a real shop!
Click to explore.

Photographer Unknown


edited by Mike Wellins. This is a soft cover collection of amazing photos taken in the early 20th Century up into the 1960s.This book is 160 pages of full color photos from photographers unknown.

From 25 years of photo collecting, these represent a dynamic look at images that someone though were beautiful enough to capture.

Visions of the 20th Century through the Lens of Ira Latour
A 60 minute visual documentary on one amazing artist.

Have you found one of our

fortune cards

someplace on earth? If so, tell us where and what it said, and we'll send you free stuff, seriously.

Updated 9.2012 All materials copyright
© 2012 mike wellins/freakybuttrue(TM)
The episode that started the submarine craze! It's a mini-epic, underwater.
Watch it!
Eric Bute and Nick Childs
face off in this duel to the
death. It's a period picture. Watch it!
Shards of Death 5: Now Hiring
How bad can a job interview
go at a game company? Bad.
Watch it.
Deadenders
a 42 minute driving, smoking, crime featurette. Take a ride!
Grime Shoed Diaries An animated deadrospective of a down and out detective, looking for a clue or a job. Watch it!
Night of the Yardsale Monkey
70 minutes of comedy films and animations on DVD
Steve!
The price of solitary jaw
harping. Watch it.
Episode II, Mystery on
the high seas with Nick
Childs, Adam Guggenheim,
Leif Peterson and Rick Hasapis
Watch it!
Science saves your butt
about a thousand times per day and answers life's biggest questions.
Watch it!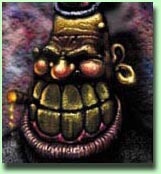 Paintings and Art
Storytelling Through Animation

by Mike Wellins is now available, has been available, old news now. Except when that guy killed that guy with a copy in Fresno.
April 2005 Softcover 550 page text book with companion CDrom with lessons examples, films, clips, art and interviews from Industry professionals. Google it for a good price on Amazon and ebay!